Congratulations to our September 2020 White County Central High School Students of the Month. 9th grade. Landry Miller 10th grade. Cassidy Froud 11th grade Brallen Tamayo 12th grade Micah Todd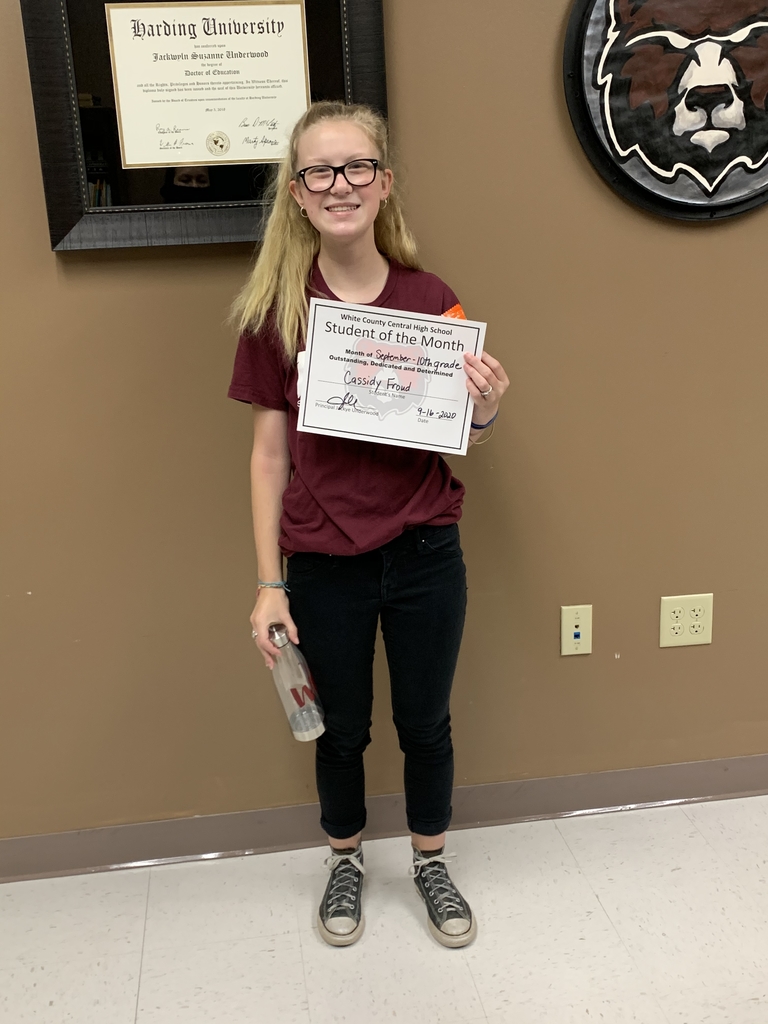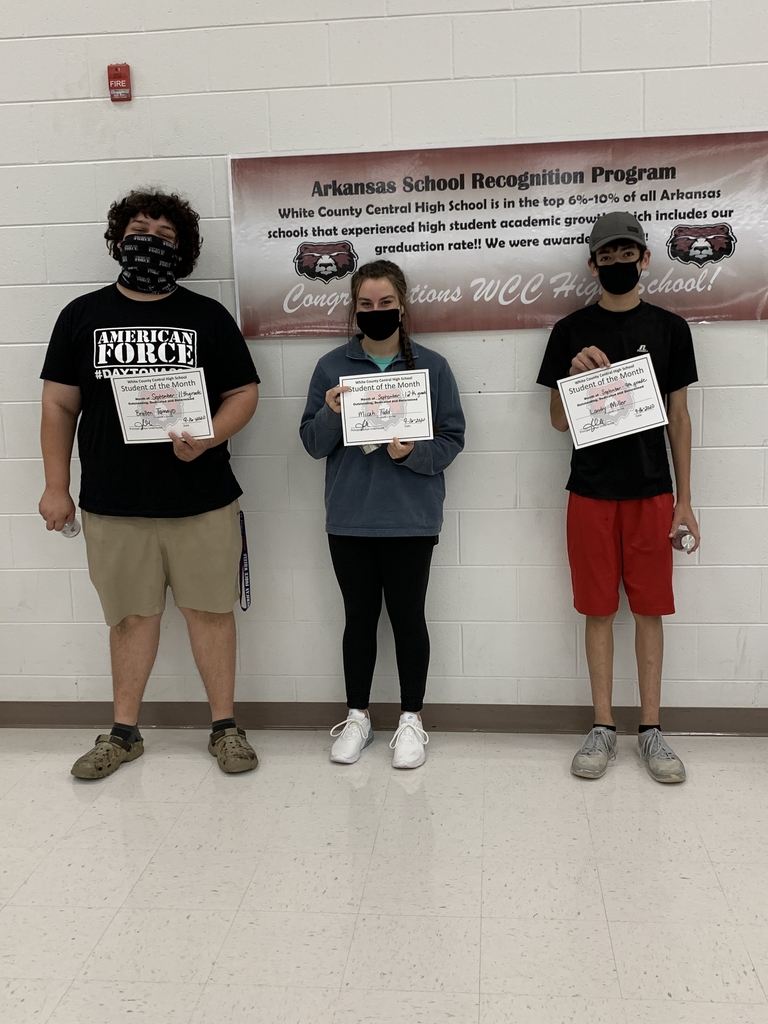 Parent/teacher conferences are next Thursday, Sept. 24, from 2:45pm to 7pm. They are by appointment only. Please read the attached flyer for more information.
Annual Title 1 Meeting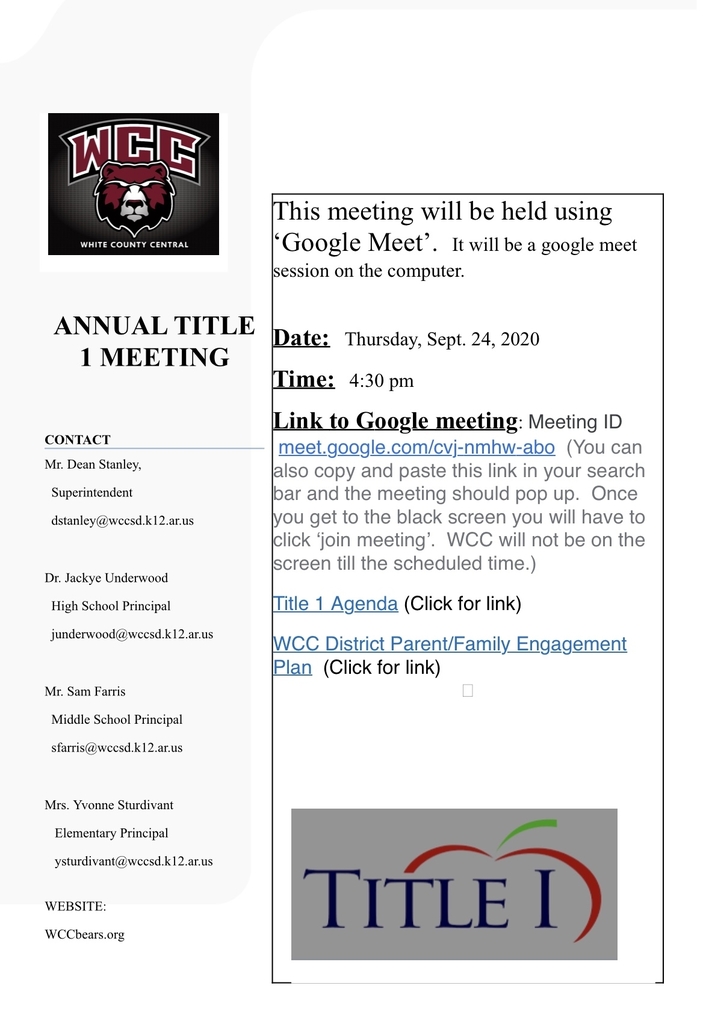 Updates basketball schedules as of 9/13/2020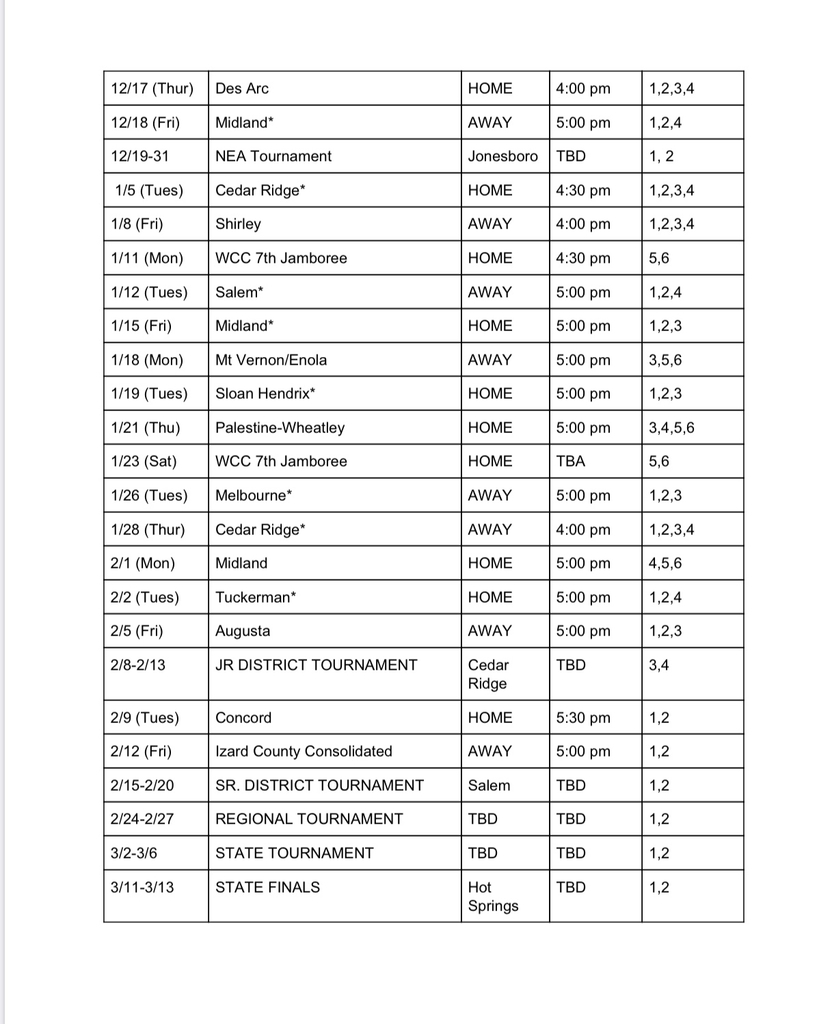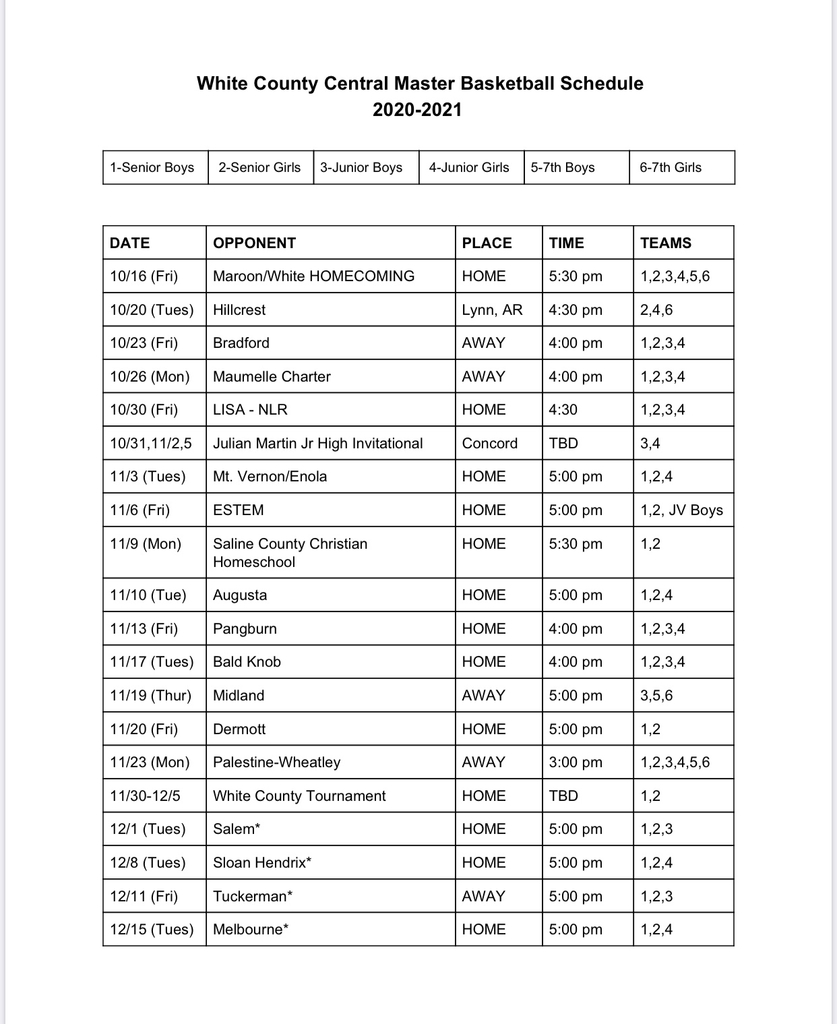 BearLand Weekly for Next week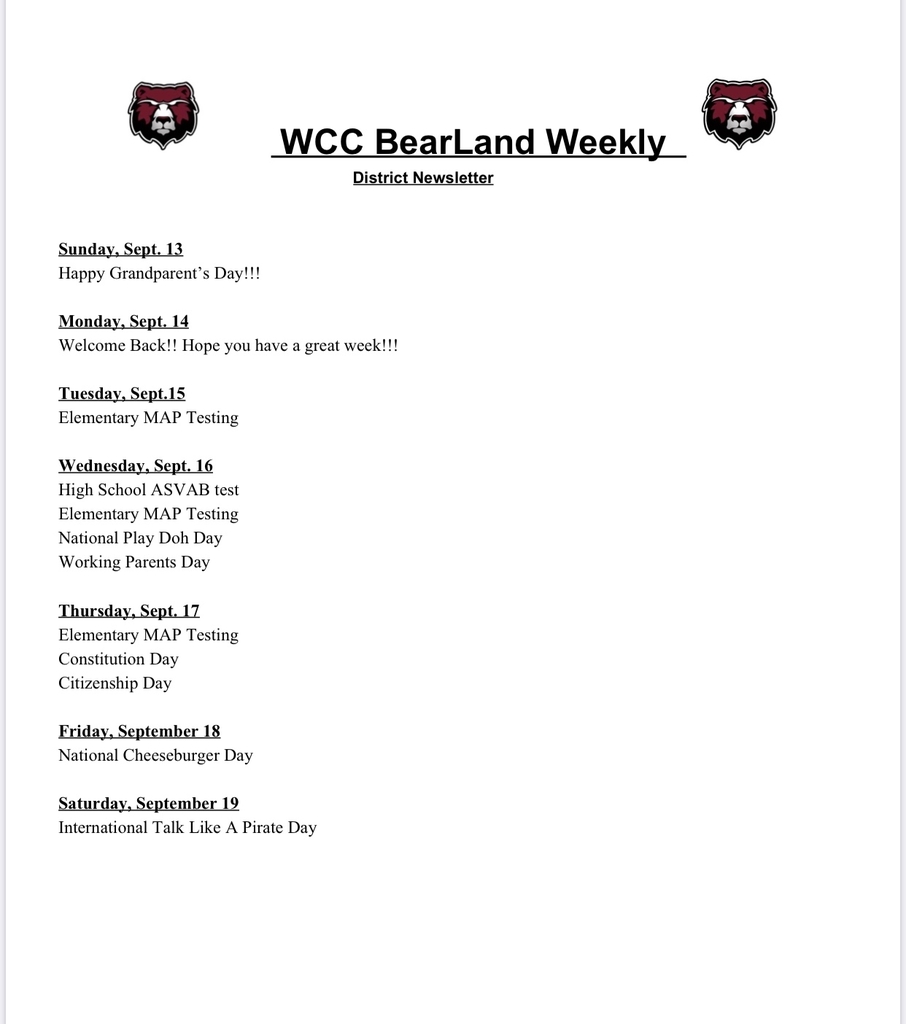 WCC will be hosting our annual flu vaccination clinic for students on October 19th. We will be unable to offer this service to the community at this time. The White County Health Unit will be having a walk in clinic on September 21-25, 2020 from 8:30 am - 4:00 pm at 112 Brantley Rd in Searcy. Call 501-268-6102 for more details.

Car Rider Families: Please help us keep our lines moving efficiently by not getting out of your vehicle. If your child needs assistance buckling their seat belt, we ask that you pull over and assist them after the line has left. We also ask that children load/unload from the right side of the vehicle. This keeps them safe and moves the line more efficiently. Thank you for your patience and cooperation.

This is just a reminder that masks are required to be worn on the bus by ALL students K-12.
White County Central is clearing out our permanent records. We are keeping transcripts only, If you graduated from 1948 to 2011 and you would like to have what is left in your record- file please come to the high school office to get it. You will need to bring a pictured ID. All records (except transcripts) from 1948-2011 will be shredded on October 1, 2020. It would be great if you could call before you come - so we can search for your file and have it ready when you get here. If you have any questions please contact Dr. Underwood at
junderwood@wccsd.k12.ar.us
or call her at 501-729-3947 ext. 16.
Reminder: Any 7th-12th grade students interested in Esports - there is a parent meeting at 6:00 pm today, September 8, in the High School Commons. Parents must attend the meeting OR email Matt Jones,
mjones@wccsd.k12.ar.us
, before the meeting. We are currently playing League of Legends, Smite, Rocket League, Overwatch, and Fortnite.

Parents, Just a quick reminder: Do not send your child to school if you are awaiting COVID test results. They should be learning virtually until you hear that the test was negative. Thank you for your cooperation!
Reminder: All 9th, 10th and 11th graders are MAP testing tomorrow. Be at school before 7:55am!!
WCC BearLand Weekly 9-7 to 9-11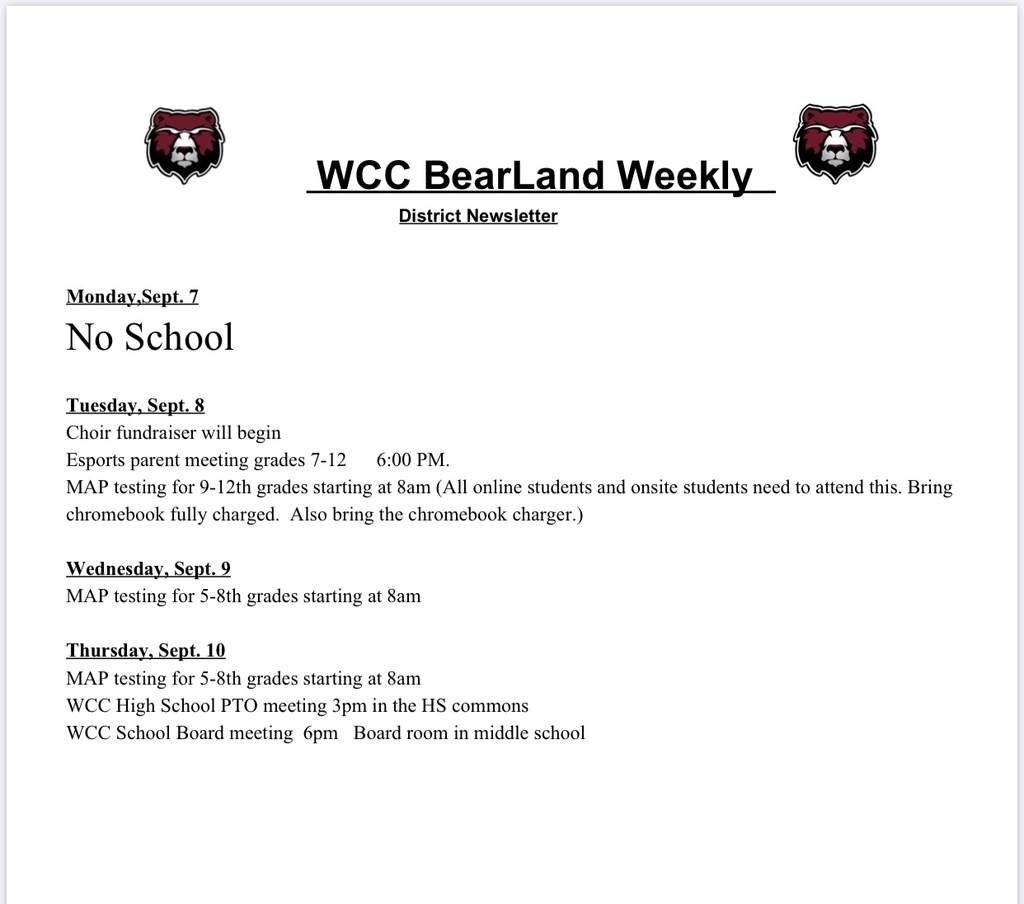 Just a reminder that there is no school on Monday, Sept. 7 for Labor Day. Enjoy the long weekend with your family. We will see you next Tuesday!

White County Central is accepting applications for a Licensed Practical Nurse. Please contact Dean Stanley at 501-729-3992 or
dstanley@wccsd.k12.ar.us
if you are interested. Applications should be completed by Friday, September 11.

Special Announcement!!

To clarify the COVID-19 situation: The school cannot provide specific information regarding what classroom the positive case was in. If you were not contacted, then your child was not within the close contact range that was formulated by the ADH. We ask that parents not phone the school with questions at this time but please email
covidsupport@wccsd.k12.ar.us
and we will attempt to answer questions as quickly as we can.

The White County Central School District is reporting that on Sept. 3rd a student at the elementary school has tested positive for COVID-19. The District is following all ADH guidelines and are tracing all probable close contacts. The student and close contacts have been directed to quarantine. WCC is taking all appropriate actions to follow the appropriate guidelines issued by the state of Arkansas and the US Center of Disease Control to assure the safety of our students and staff. The District will have no further comment at this time due to the confidentiallity requirements imposed by state and federal laws.
Here is a flyer for WCC's Hippy program!
Bus 4, Mr. Clouse's bus, is running about 8 minutes behind this morning, Thursday, Sept. 3.